Staged Seduction is a finalist for 2017 Michelle Rosaldo Book Prize, Association of Feminist Anthropology in American Anthropological Association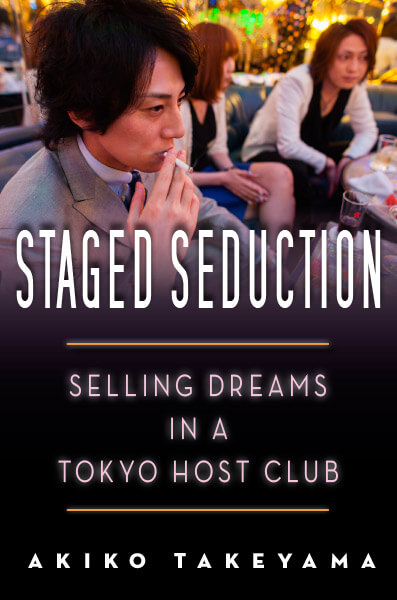 In the host clubs of Tokyo's Kabuki-cho red-light district, ambitious young men seek their fortunes by selling love, romance, companionship, and sometimes sex to female consumers for exorbitant sums of money. Staged Seduction reveals a world where all intimacies and feigned feelings are fair game for the hosts who employ feathered bangs, polished nails, fine European suits, and the sensitivity of the finest salesmen to create a fantasy for wealthy women seeking an escape from the everyday.
My investigation of this beguiling underground "love business" provides an intimate window into Japanese host clubs and the lives of hosts, clients, club owners, and managers. The club is a place where fantasies are pursued and the art of seduction isn't merely about romance; a complex set of transactions emerges. Like a casino of love, the host club is a site of desperation, aspiration, and hope, in which both hosts and clients are eager to roll the dice. I reveal the aspirational mode not only of the host club, but also of a Japanese society built on the commercialization of aspiration, seducing its citizens out of the present and into a future where hopes and dreams are imaginable—and billions of dollars can be made.
Staged Seduction is available now at Stanford University Press and Amazon.com
Blurbs and Reviews
"An exquisite ethnography of host clubs in Tokyo, Staged Seduction describes the daily trials of commodified romance for buyers and sellers. It provides a cultural kaleidoscope into the lives of youth confronting a precarious labor market, women and their aging insecurities, and consumption in late capitalism."
"Seductions performed by male hosts, purchased by female customers, and entwined around money and desire: this is the terrain of Akiko Takeyama's fascinating book. Set in neoliberal Japan when the future is fraught, Staged Seduction captures the anxieties of the times in an affective ethnography at once unsettling and bold."
"Staged Seduction is a compelling ethnographic study of commodified romance, aspiration, and desire in neoliberal Japan. With riveting stories of male hosts and their female clients, Takeyama elegantly renders the complex dance of sentiments, interests and affects within an atmosphere of inequality and veiled transactions. This influential work will define future research in affect theory, gender studies and the anthropology of East Asia."
"These is so much of interest in Staged Seduction, which will appeal on a number of levels. Takeyama argues that host clubs are emblematic of a neoliberal, post-industrial Tokyo: see what you think. Her study certainly offers a fascinating insight into a recently greatly expanded part of its nightlife."
"Staged Seductions is a highly enjoyable and, at times, troubling read, resulting in a wonderful example of an affective ethnography. Takeyama provides deep insights into the complex ways that affects are implicated in, and constitutive of, the production of neoliberal subjectivities."
"Akiko Takeyama's Staged Seduction is a remarkable entry in the surprisingly crowded field of ethnographic portraits of the sex/companion industries in Asia...[A]s a work that sheds light on negotiations between commercial pressure, sexual desire, and fantasy, Staged Seduction focuses unusually on male hosts and their female clients in Tokyo. Although the book draws, as might be expected, from scholarship on gender relations in contemporary Japan, Takeyama's real goal is to contribute to pressing debates in anthropology and social theory regarding temporality, affective labour, and the cultural consequences of neoliberalism."
"[O]ne becomes all too easily engaged with the lives of the individuals [Takeyama] introduces. This is not because they are 'fascinating' subjects whose outlandish lifestyles and fantastically salacious pursuits entertain, but instead it has much to do with the affective ethnographic method Takeyama actively sought to employ. This non-moralistic, but uncondescendingly emphatic, rendition of her fieldwork and interviews further invites discussion on how anthropologists can try to reproduce what they come to know in, of, and via themselves while avoiding the pitfalls of vanity, the need for unquestioned surface level political correctness and moral high-horsery."